The Academy of Oncology Nurse & Patient Navigators (AONN+) is excited to announce the establishment of collaborative partnerships with Oncology Solutions, LLC, and the American Cancer Society to execute a national multisite navigation metrics quality study. The aim of this quality study is to gain insight and understanding into the barriers and challenges navigation programs encounter during the implementation of navigation metrics. Another emphasis of the study is to evaluate the validity and readability of the 10 selected navigation metrics. It is crucial for navigation to continue to build a strong sustainable business case through the collection, measurement, and reporting of newly established standardized metrics. By harnessing this powerful information, we will create best practices to elevate navigation services and garner industry support for advancing patient-centered care delivery.
Table 1 lists the 10 AONN+ Standardized Evidence-Based Metrics to be collected during the study. The data end points will be populated within a newly created NAVmetrics cloud-based IT platform powered by Oncology Solutions' ONC iQ business intelligence tool (Figure).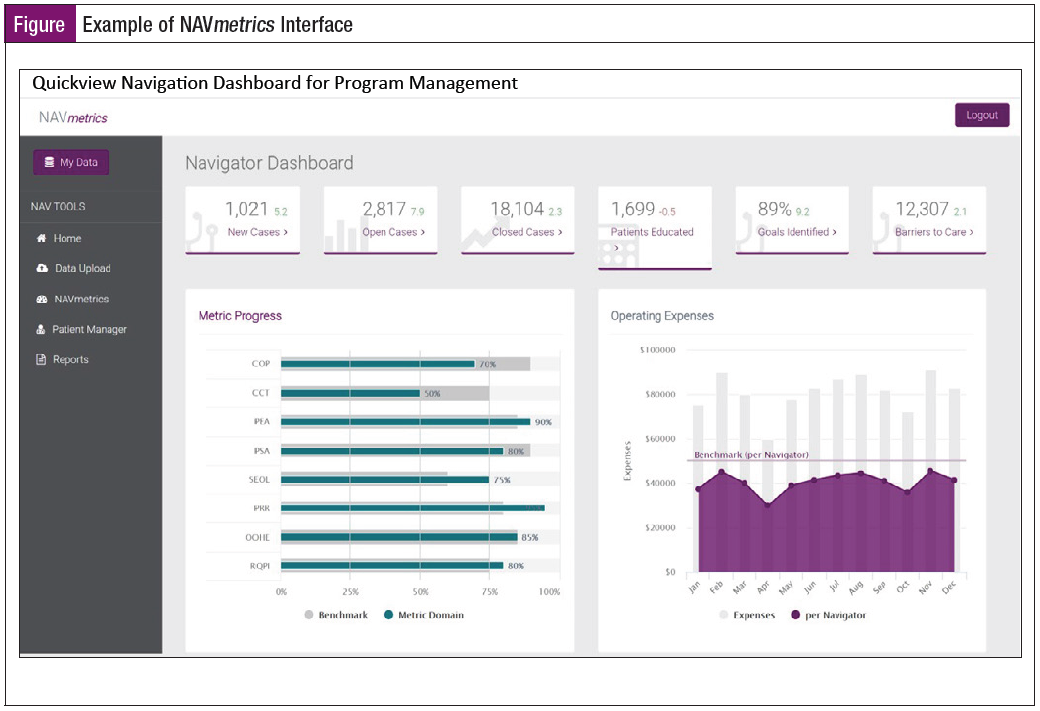 Qualitative Data
Preassessment and postassessment to evaluate each study site's baseline knowledge about navigation metrics, data collection, and analytics
Study site challenges and barriers with metrics implementation and data collection
When a challenge/barrier is identified, how the challenge/barrier can be overcome (a mini PDSA cycle)
Capture performance improvement enhancements during study period and identify best practices
Quantitative Data
NAVmetrics, a cloud-based tool powered by Oncology Solutions' ONC iQ business intelligence product for data capture, management, and reporting of navigation metrics implemented at each study site to collect the 10 navigation metrics
The study's desired outcomes are the following:
Primary Objectives
Implementation of metrics and reporting of outcomes with data analysis
Establishing evidence-based, national standardized navigation benchmarks
Navigation research to validate sustainability and value of navigation
Identification of navigation best practices and lessons learned
Creation of a centralized navigation metrics database and repository
Secondary Objectives
Identify clinical and IT challenges and barriers with navigation metrics implementation
In collaboration with the American Cancer Society, develop a Navigation Metrics Implementation Tool Kit as an outcome of the study findings
The study will open in March 2018 for National Cancer Institute (NCI), academic medical center, and community institutional providers or medical oncology physician practices participating in the Centers for Medicare & Medicaid Oncology Care Model (OCM) to submit a Letter of Intent (LOI). The LOI serves as an initial screening to evaluate if interested institutions and practices meet the inclusion criteria (Table 2). Submission of an LOI is required to receive an invitation to complete a formal application. If the study sites meet inclusion criteria they will be asked to complete an application. All applicants will be notified of study site selection no later than April 15. We are recruiting for 2 designated NCI or academic medical center providers, 2 Commission on Cancer–accredited community-based cancer programs, 2 medical oncology physician practices participating in the OCM, and 2 maturing cancer programs that currently have no metrics or reports in place. Please visit the AONN+ website for additional details and upcoming link to LOI submissions: https://aonnonline.org/pilot-study.
We hope that your institution or medical oncology practices will consider submitting an LOI for the opportunity to participate in this groundbreaking national quality study. Should you have any questions regarding this study, please contact the study investigators at the following e-mail address: This email address is being protected from spambots. You need JavaScript enabled to view it..